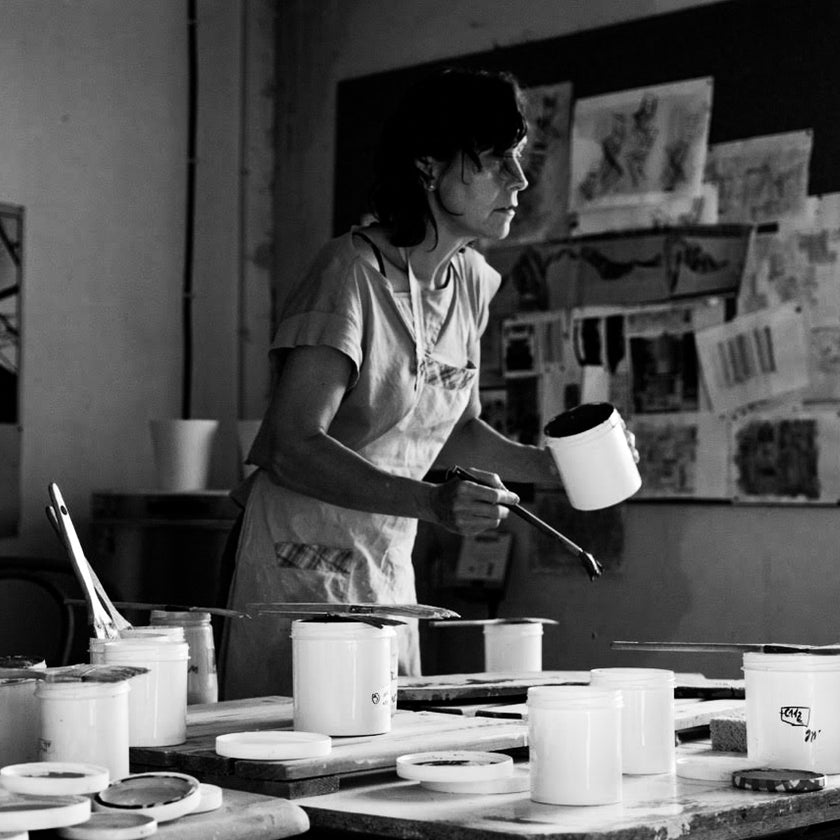 Armelle Benoit (b. 1961) is an acclaimed French ceramist with genuine know–how. In her works, she only uses French materials and unique techniques, many invented by herself. Her creations were exhibited at the Musée des Arts Décoratifs in Paris and have become the favorites of many art shows: the AD Matières d'Art session held at the Palais d'Iéna in 2021, the exhibition Le Decor, De La Couleur… Au Blanc in the museum Bernard Palissy.
After Armelle Benoit graduated from the École des Beaux–Arts in Paris in 1983, together with Jacqueline Lerat she founded a duo that worked on the fine line between traditional handicraft ceramic techniques (kiln firing) and contemporary art. In 1986, Armelle founded her own art workshop in Anjou, where she developed a range of unique ceramic colours and shades. The artist asked fundamental questions about the boundaries between painting and applied decor, design and sculpture, and found non–trivial answers to them.
"Creativity for me is the story of an encounter, an exploration of desire. I am inspired by word, colour and shape. I use everything that allows me to draw lines and sketch, such as watercolour, gouache, black pencil, ballpoint pen, marker. The material aspect of any substance, be it earth or clay in any of its forms (faience, porcelain stoneware, porcelain) allows me to create a volume and reach the desired contours. Build them, bring them to life. Everything is connected: desire enables the drawing to take shape, to exist more fully in it," the artist explains.
In 2000, Armelle Benoit was the recipient of the Villa Medicis Hors les Murs award and also received an AFAA grant to travel to Mexico. After several years of traveling through India, Mexico, Vietnam and Sicily, during which she researched the ancient techniques of local artists and their traditional ceramics, she rethought and updated these methods to create modern items for everyday life. The artist believes in the advantage of the French craft and its influence on the ceramic tradition of other countries.
She is convinced that: "The turn towards environmental development and the need for a profound transformation of society are forcing us to return to raw materials that limit the pollution of the planet. That is why clay is so highly valued and stands out among other materials. More and more architects nowadays are turning to the earth, after the period in which it was replaced with concrete half a century ago."
About "Celestial Body" table
Exclusively for Booroom Gallery in 2021, Armelle Benoit created a ceramic sculptural table "Celestial Body" made of glazed ceramics (limited edition of 8). As the artist admits, this is a poetic metaphor for the luminous fiery celestial body that appeared in the winter Moscow landscape: "this star fell in love with snow so much that she wrapped herself in it." White and blue drops of glaze envelop the asymmetrical table from all sides.
Download info