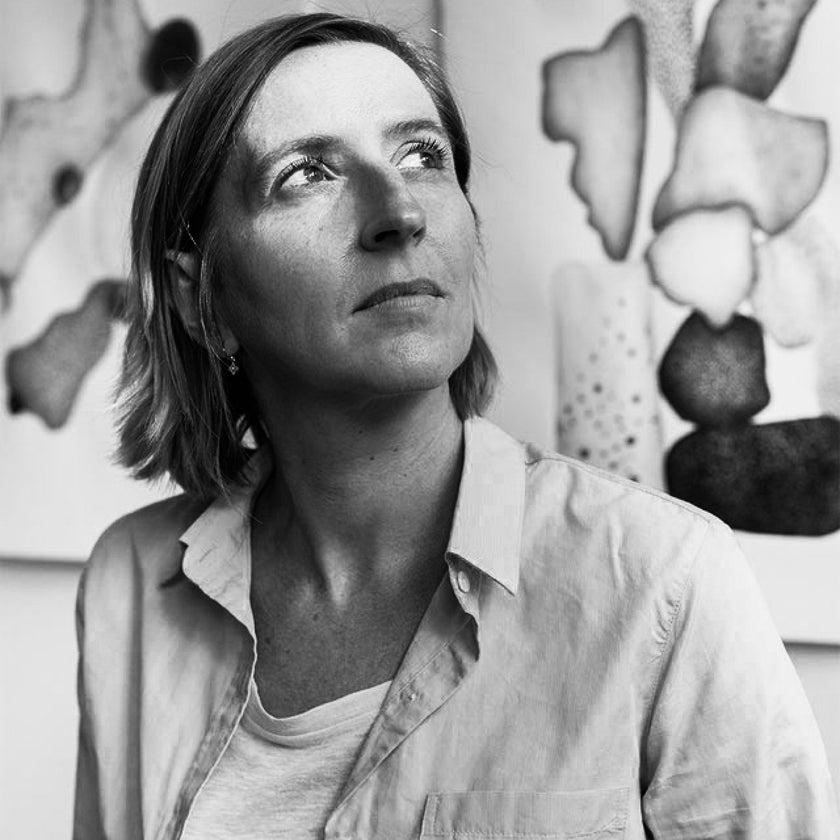 Alix Waline (b. 1982) is a visual artist and fashion designer experimenting with art, graphics, drawing, murals, photo wallpaper and object design. This Parisian is always in search of new forms and textures, and is interested in living and organic structure. Alix studied fine arts as well as music, and graduated with a degree in Fine Arts of Paris, History of Art from the Sorbonne. She loves the multidisciplinary approach that allows her to reveal all the facets of her talent.
She became famous after joint projects with the Gilles & Boissier bureau, as well as the development of objects for the Mandarin Oriental hotel in Paris. She designed the windows of the Cartier boutique, released a collection of table lamps in collaboration with the Pouenat brand, created a collection of carpets for the Pinton brand, graphic wallpapers for Chiara Colombini and a spectacular mural for the new Diptyque boutique in Paris on Rue Saint–Honoré. In 2021 she participated in the group exhibition of collection design Genius Loci, held in Villa L'Ange Volant near Paris, the residence designed by Gio Ponti.
Her recognizable style is abstract compositions of black dots on a white background. To create her pointillist frescoes, the artist uses black Posca markers in three different diameters. It is with these simple means that Alix creates the illusion of a three–dimensional image on a two–dimensional surface. As a rule, it takes at least a week to complete a painting. Larger projects can take three to four weeks. Abstract figures are intertwined, layered, and flow into one another in her monochrome works. This is a truly meditative art that allows everyone to project their own dreams.
"The starting point of my creative process is about exploring the living and its structure.
Then, I try to recreate an organic set up and let it grow. I think that the quest is to find a perfect balance between materiality and immateriality. That means a very delicate and mastered realization but a form that remains open and subject to different sensations and interpretations," explains Alix.
"I am mostly inspired by tactility, paper and fabric and the versatility of ink. I am very interested in craft to explore and get inspired by different "savoir–faire", and find different supports to express a sensibility, and bring strangeness into the decorative arts.," the artist continues.
About the limited-edition screens
Exclusively for Booroom Gallery in 2021, Alix Waline created two unique screens: a full–size object and a mini version. The idea of ​​the drawing is to simultaneously express movement, speed and smoothness of the flow. Waline interweaves spots and dots in a collision devoid of conflict and thus achieves a new emotional quality.
Download info